How Successful Are Hair Transplants? Cost, Procedure, Recovery & Effects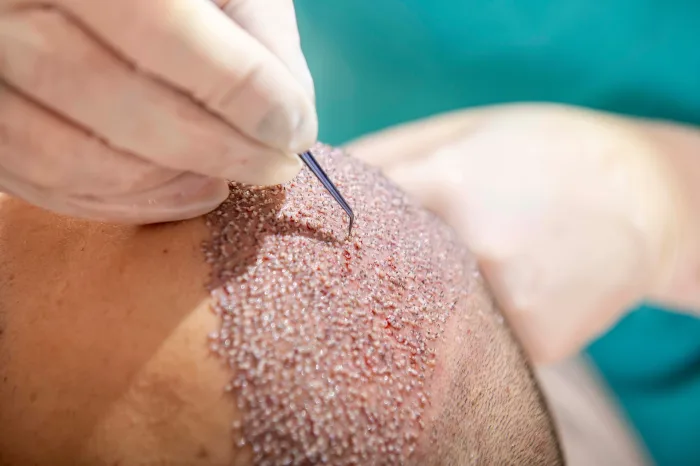 You can consider a hair transplant if your hair is thinning or balding on your head.  It's worth your investment to change your hair lines or gain attractive, thicker hair.
Hair loss can be reversible with today's modern and improved aesthetics technology. Keep on reading this article as it can help you make a more informed, confident decision about whether the procedure is the right option for you.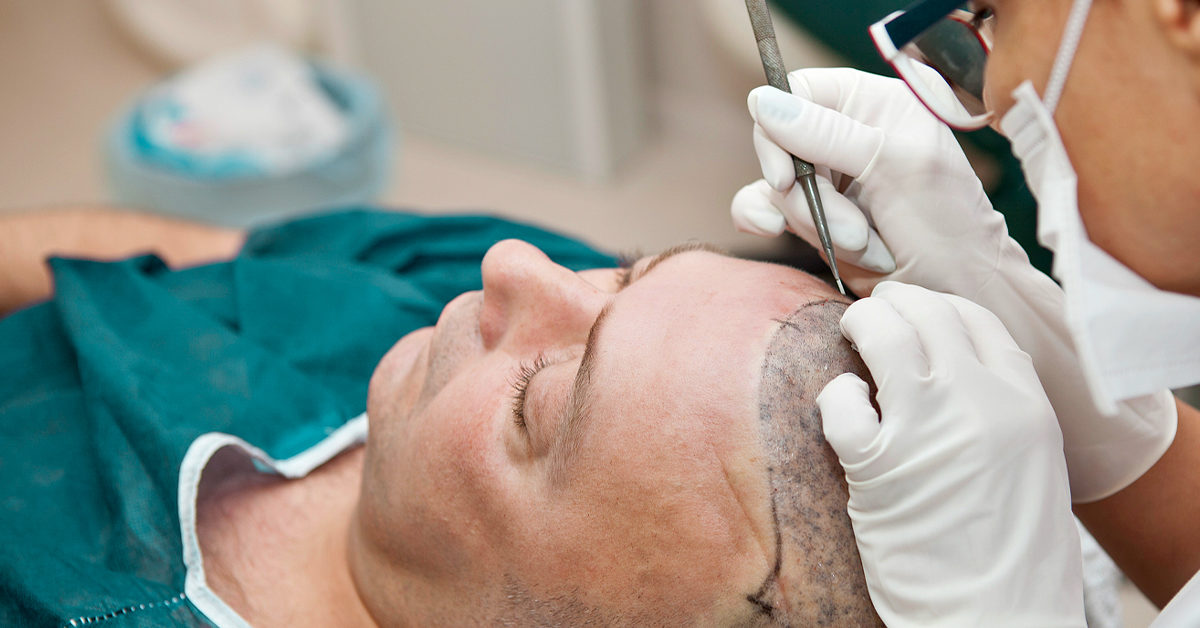 What Is The Cost Of A Hair Transplant?
Hair transplants are a costly procedure. However, the expense may change depending upon various variables.
A few elements influencing hair transplant cost include:
The Quantity of Hair Removed
It costs more to expand hair over the whole scalp, as opposed to only a few little zones.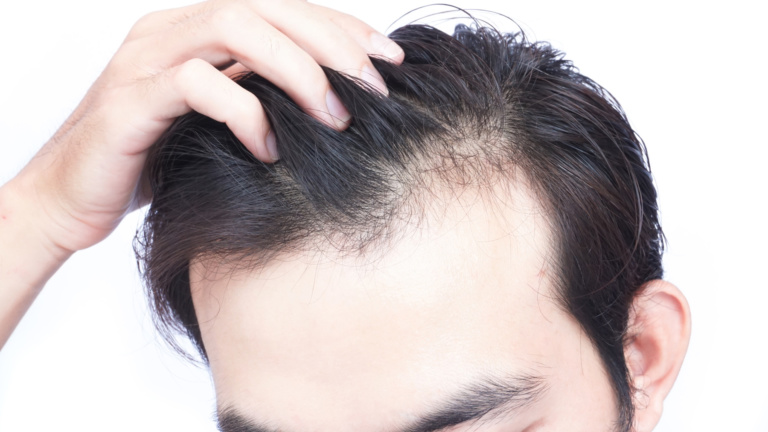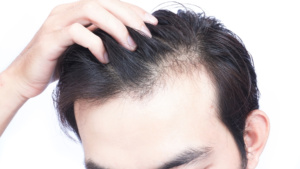 Surgeons viewed as specialists in their field regularly charge more than other people who are less qualified. It's essential to research the specialist and the treatment thoroughly. There's no point in skimping on expenses since the risks of a botched procedure are higher.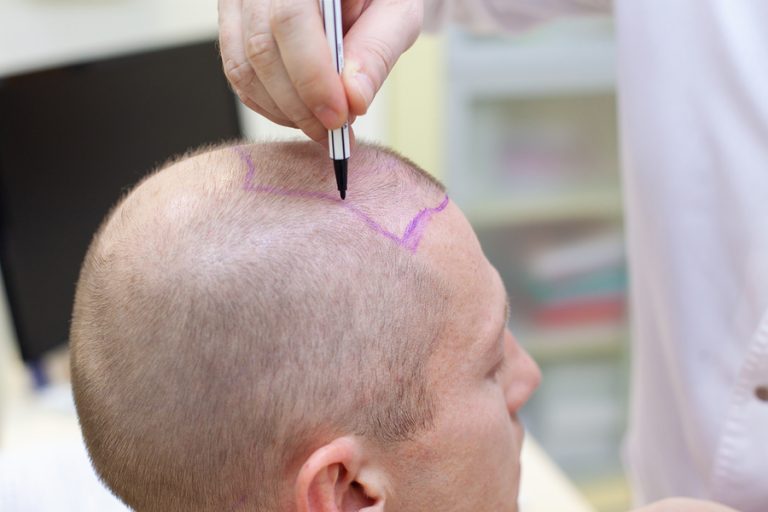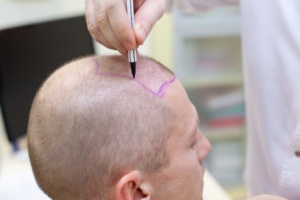 In the treated zones where the typical cost for basic surgical items is high, medical procedure expenses might cost more.
In other words, the hair transplant cost largely depends on certain factors, such as individual hair type, the severity of baldness/hair loss, etc.
FUE hair transplantation is one of the most widely used and advanced hair transplantation techniques available nowadays.
The price for an FUE hair transplant is estimated at around RM8.00 to RM12.00 per hair in the market. It requires extensive experience, specialization, and skillfulness to perform this surgery.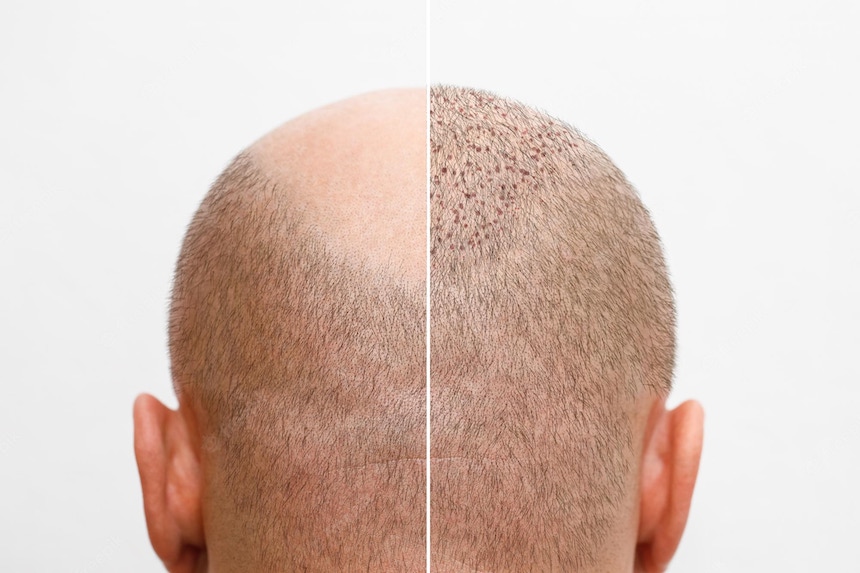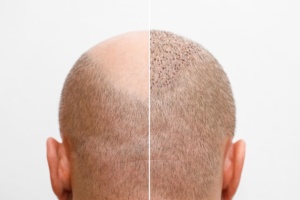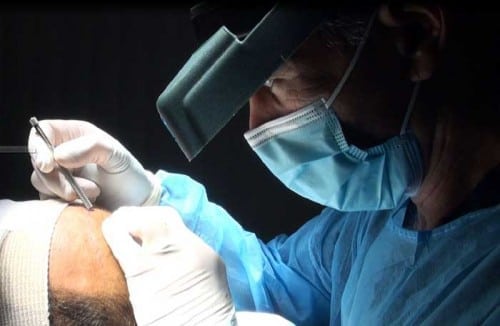 FUE Hair Transplant Procedure
An FUE hair transplant is a safe, pain-free, and minimally invasive medical procedure. No incision and no stitches are involved.
With FUE (Follicular unit extraction method), a doctor uses the hair from the back or the sides of your head (donor area) for your hair transplant. Then, the doctor will transfer the relevant hair follicles (donor are) to the treated area ie. the temple, vertex, or forehead area.
No sedation is needed, and you'll stay conscious throughout the procedure. During the surgery, you'll be fully awake.
Here's how the entire process works. First, the doctor cleans and numbs the scalp first with local anesthesia. Then, the FUE Hair transplant follows 4 steps:

Step 1: Extraction of hair grafts
A microsurgical device is used for hair follicle extraction from the desired donor area. Once a follicle is punched and loosened, the device separates hair grafts or hair roots from the surrounding dermis. The punches are so tiny that the scars aren't seen. The donor area will heal in a few days.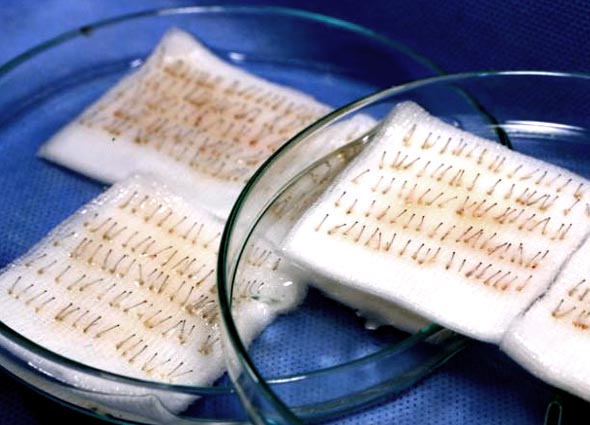 Step 2: Hair graft holding
After the extraction process is over, hair grafts spend some time outside the body. Hair graft needs to be stored in a safe atmosphere. The hair grafts need cold normal saline or any other hair graft solution for survival.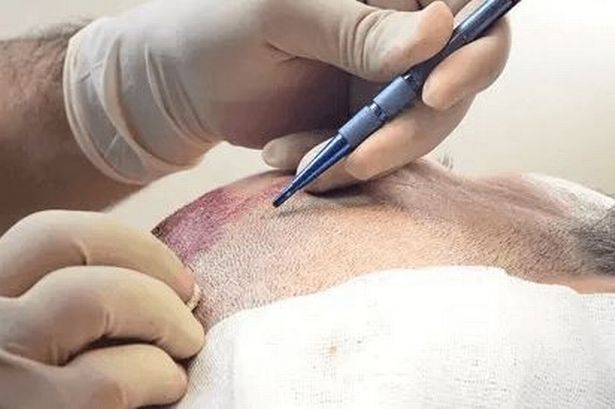 Step 3: Spacing creation
The recipient site needs to be prepared so that the retrieved hair grafts can continue to grow there. To make the space, slits are constructed.
The number of slits formed will determine the future hair density, while the direction and angle of the slits made will determine the course of the implanted hair.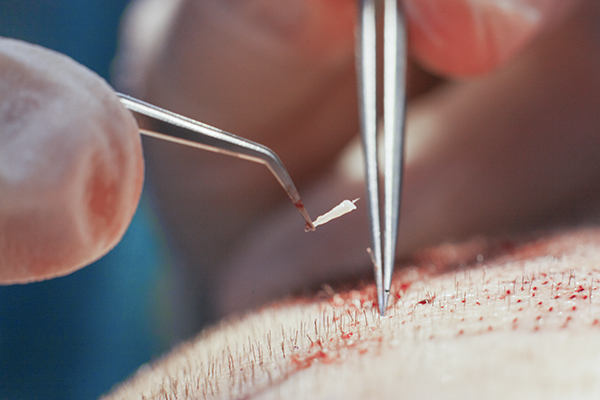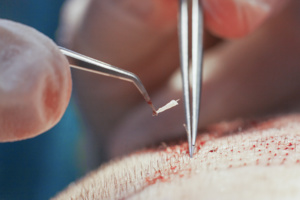 Step 4: Implantation of hair grafts
Implantation of hair grafts requires total focus and attention. The extracted hair grafts are implanted inside the previously made slits. It's vital to place the individual hair grafts in the front hairline to achieve natural-looking results.
The entire procedure typically takes around 4 to 8 hours to complete, depending upon the transplant size. The benefactor destinations recuperate moderately well.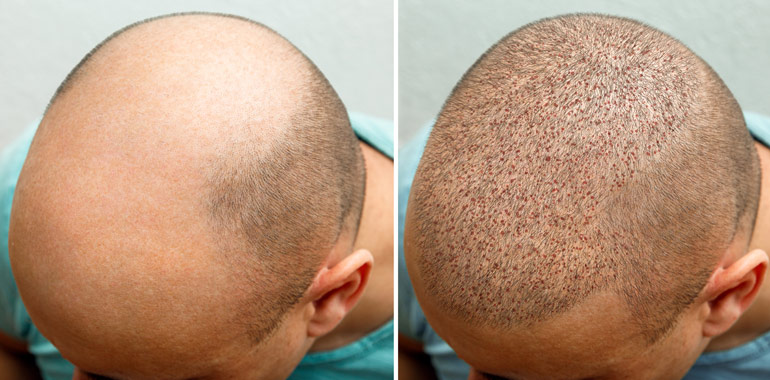 Treatment Recovery Phase
You'll be able to return to work in 2 to 3 days' time. Each recovery time depends upon the patient's age and medical history. 
Your scalp might be quite sensitive after the procedure. The doctor will prescribe medications and a hair bandage for a week after surgery. You'll be advised to take adequate rest and follow a nutritious and healthy diet.
Here are some Dos and Don'ts:
After surgery, refrain from swimming for at least one month.

Be careful while getting into the car.

Avoid scratching or rubbing your head.

Protect your head from strong sunlight and heavy rain.

Avoid using chemical shampoos, hair oils, etc.
The transplanted hair will fall out two to three weeks following surgery. However, you should start noticing new growth within a few months. Most people will see new hair growth, starting around 3 to 5 months' time. The results are completely permanent.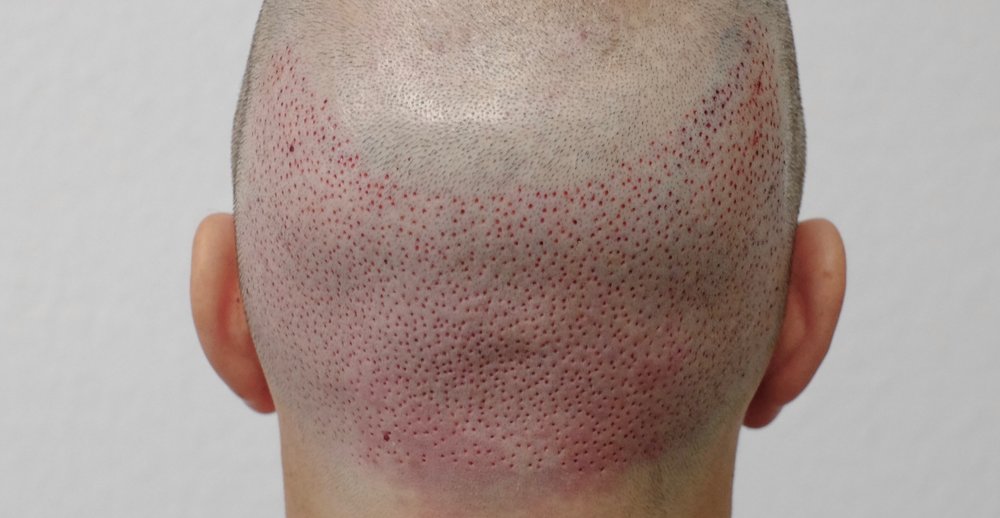 Treatment Side Effects
FUE is less intrusive than any other modern procedure. Thus, there's a lower probability of encountering complications, such as scarring or serious postoperative discomfort or pain.
Typically, any side effects which follow a hair transplant are minor. They'll often clear up within a few weeks of the procedure. These short-term side effects include:
Bleeding and Swelling
Blood will appear in the tiny dots and will stop after some time. Mild swelling will also taper off and end after a short time.
Mild ItchingItching is a common side effect of any surgery.  The areas of the body are trying to heal, so it's an understandable common occurrence after a hair transplant.
Infection
Folliculitis is the medical term for an infection or inflammation of the hair follicles. It can occur as a complication of a hair transplant. A mild antibiotic cream, lotion, or gel is frequently effective in treating infections of this type.
The doctor will prescribe pain medication and antibiotics to reduce infection risk as well as anti-inflammatory medication to minimize swelling.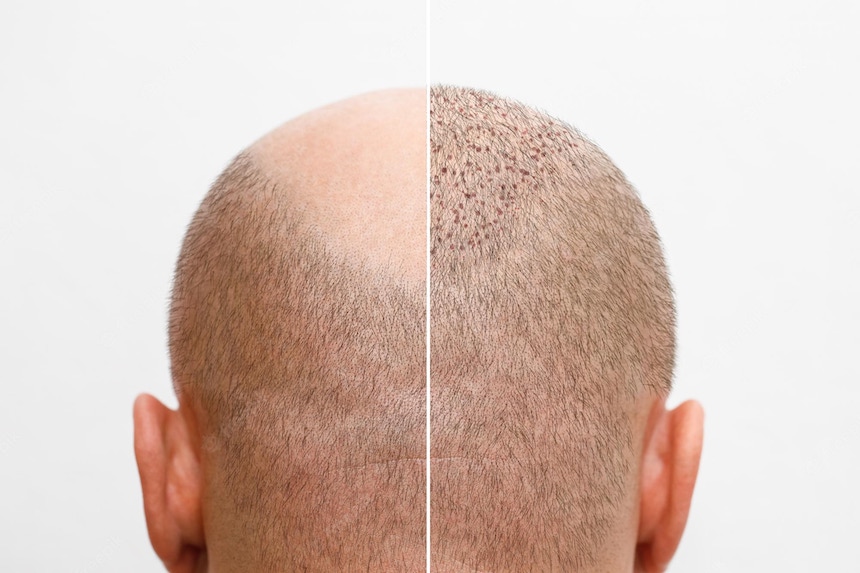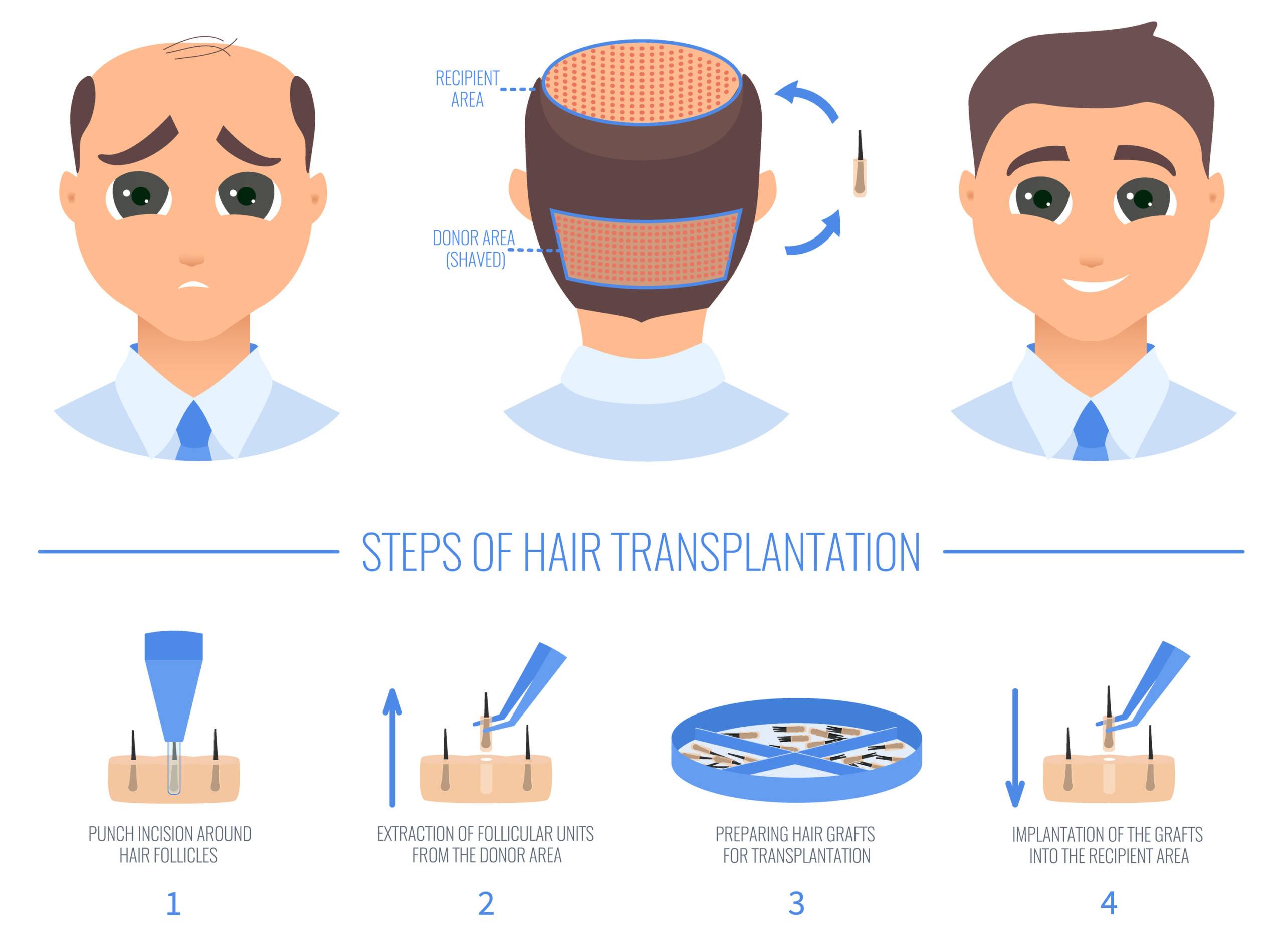 Wrapping Up
FUE is significantly more successful than other hair transplantation procedures since every hair follicle is removed separately and carefully by hand.
FUE hair transplant doesn't leave any scars on the scalp or donor areas. Besides that, hair strands can be transplanted to the desired angle. So, it's no different from natural hair and nobody will know you've had a hair transplant.
Always visit a hair restoration specialist before deciding or undergoing any hair loss treatment. At Premier Clinic, we'll help you to understand your hair issues and problems and advise you on better treatment options.
Alternatively, you can call our customer service representative to know more about hair transplant cost or to schedule a consultation with our doctors. You can also reach us at our branches in Bangsar, Mont Kiara, TTDI and KL City center.
Please contact us for further information:
Whatsapp: wa.me/60106621332
Call: +6010-662-1332 / +6012-773-2074
Email: contactus@premier-clinic.com
References